I made another zucchini muffin today. Not necessarily a new kind, just another variation.
Why am I so obsessed with muffins? I have tons of recipes for them. And it's simple: muffins are portable and they don't require precision cutting like brownies.
Disclaimer: I have nothing against brownies.
Recipe down below but right now, some WIAW action!
And 'Like' my blog page on Facebook, because you're all wonderful like that <3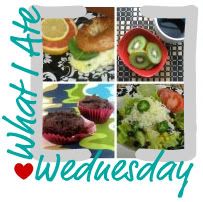 Chocolate Acai Smoothie 
1 packet Sambazon frozen pure unsweetened acai
1 frozen banana
1 cup unsweetened chocolate almond milk
2 tsp Navita's Superfood protein mix
1 tsp xanthan gum
monster handful of spinach
Cranberry Walnut Muffins are exactly the same as the recipe for Walnut Spice muffins, only with cranberries added
I also reduced the amount of shredded zucchini to 1 & 1/2 cups.
I realize it doesn't get anymore exciting that another zucchini recipe…….
but I bought a new shower curtain today! My old one was plastic & ripped. I got it on sale at a Canadian ikea-esque store called Jysk. It has magnets at the bottom!!!!  Unheard of!!!!! I don't get out much. I am still looking for some cute bathroom decor and yes, I usually keep my countertops bare, save for my Clarisonic & a lotion. 
I'm going to go for a long walk, hope it doesn't rain, then come home & watch Entourage and Glee.
Happy Wednesday!